COVID-19 INFO:
YES, WE ARE OPEN!
NO vaccination certificate needed.
COVID-19 INFO:
YES, WE ARE OPEN!

NO vaccination certificate needed.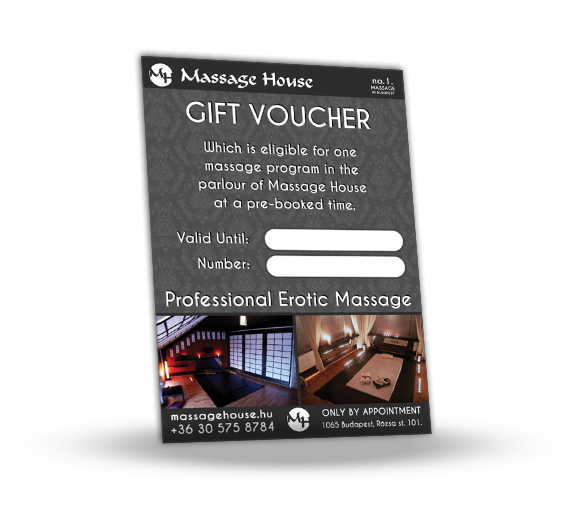 Gift your partner, friend, or colleague with an erotic massage.
It only takes a few minutes – but it will last for a long time!
The gift voucher can be used for any of our programs of your choice, with one or two masseuses. You can check out the available massage types here.
Surprise your partner with a couples massage, or your colleague with an unforgettable tantra massage experience.
Who doesn't love a bit of sensual pleasure, right?
How to buy?
– Call us to learn more about our programs, we'll help you choose the best for your gifted one. You can check out the prices here.
– Come to Massage House in person for your voucher OR just send the price of the chosen program via bank transfer and you'll receive the gift voucher via e-mail that you can print at home. Simple & easy for your convenience.
Don't hesitate to call us! This is the perfect gift you're looking for.
Erotic massage focuses on sensuous stroking, ensuring that you can totally relax and switch off from your hectic everyday routine. A warm infusion of pure natural oil is delicately introduced to your body which seeps into your pores as your Masseuse kneads and massages your physical stress and tensions away. Explore the sensations that flow through the core of your body and make you enter a realm of deep relaxation. Massage thrives in warmth and privacy with smooth music, candlelight, and scented oils – soothing you into a state of inner calm and pure relaxation. These massage programs are designed to release your stress and daily tension.