There are many well-known tools for the beauty and health of our bodies, like regular exercise and sports or a diet / weight loss diet. Perhaps for many, the power of novelty can be influenced by the fact that a certain type of massage can also promote fat burning. This technique is called "fat-burning massage", "cellulite massage" or possibly "consumer massage" with noble simplicity.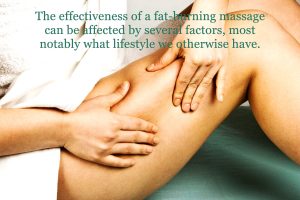 While this type of massage is not comparable to a relaxing massage and not a substitute for conscious nutrition and regular exercise, it can be a perfect complement to dieting.
Its main purpose is to gradually alleviate cellulite, tighten the skin, remove toxins, speed up metabolism, and break down adipose tissue / reduce fat cells, all of which together help to eliminate excess fat pads.
How does it works?
Thus, during a fat-burning massage, we stimulate, among other things, points in the body that are associated with the hunger center and metabolism. This means that while the appetite of the massaged party steadily decreases as the treatments progress, its metabolism speeds up.
After some time, the body adapts to this process, so it is unlikely to be so burdensome for those who want to lose weight to follow the rules of nutrition that they deem correct, yet stricter.
As mentioned, fat burning massage not only helps to get rid of excess fat, it can also be an excellent tool to fight cellulite (a visible layer of fat deposited under the skin). It takes many years to develop, so it is not possible to disappear immediately.
Since excess weight usually also results in cellulite, during a consumer massage, the masseur or masseuse uses ointments that in themselves make our skin firmer and more supple.
However, it is important to mention that these creams are few in themselves, as is the massage itself, so using them cannot completely replace regular exercise and a balanced diet, it can only supplement them. (Although the use of fat-burning creams has been shown to help remove excess fat, you may want to look more closely at exactly which one to choose.)
But how do you approach this massage?
With the right knowledge, we can even try this type of massage at home, not only in a massage salon.
Certain movements of the treatment itself are relatively simple to learn:
The consumer massage consists of right-to-left and bottom-up, smoothing, pinching and circular movements. The best time for this treatment is after the evening shower or bath (or it may be advisable to do the treatment immediately after training, as this will make it easier for the muscles to relax, regenerate and shape more quickly.)
We start the massage at the thighs first, then the hips and buttocks, and finally the abdomen. First we have to smooth all the said areas with slow but firm movements, and then we gently pinch the parts we want to slim down (thus reviving the lymphatic and blood circulation).
Finally, we knead through the more critical body parts with our hands clenched into fists and the "cams" ​​at the junction of the fingertips. This sequence of movements is followed again by pinching and then by definite but smoothing movements.
How often is it recommended?
It may be worth spending at least three to four times a week on these catches, as well as getting enough exercise. If you decide to rely on professional masseurs or masseuses, a treatment can take longer (60-90 minutes), but especially in the initial period it is important to take four times a week for a fat-burning massage, and later three times a week. , until the desired result is achieved.
Is it really effective?
Although some types of massage may be painful, we don't have to worry about anything like this in the case of cellulite massage, after all, we work with relatively gentle movements from the beginning to the end of the treatment.
Of course, the effectiveness of a fat-burning massage can be affected by several factors, most notably what lifestyle we otherwise have. Although massage can help you lose 1-2 pounds of weight a week, its effectiveness depends on the amount of excess weight and the binding of adipose tissue.
It is recommended to pay special attention to drinking at least 2.5-3 liters of water during the treatment, so that the fat dissolved during the massage is more easily removed from our body.
It is important to mention that although cellulite (against which a fat-burning massage may also prove effective) is not necessarily the result of weight gain. Although it depends on a healthy or even unhealthy diet, it can also be of hormonal origin, so it can develop in the same way for women with a slimmer physique.
We have already explained the steps of consumer massage in more detail above, let's also take a closer look at how it would be worthwhile to transform our meals to make our skin more beautiful!
Citrus fruits such as lime or orange have an extremely high fiber content and are also rich in vitamins. They contribute to the proper functioning of the liver, and this organ of ours is vital for the excretion and removal of toxins.
Capsaicin (a spicy active ingredient containing vitamin C), which is also found in hot peppers, significantly improves metabolism, thus speeding up the removal of toxins and even reviving blood circulation. Incidentally, it is also an important ingredient in many anti-fat or cellulite creams.
Chicken breast proves to be an excellent source of lean protein, and is also a perfect diet food for healthier, such as grilled. It is characteristic of lean protein sources that it helps to balance our body's insulin levels, as its fluctuations also lead to cravings for unhealthy, carbohydrate-rich foods, among other things.
In addition, one of the biggest enemies of cellulite is antioxidants, vitamins C and E. You may want to eat as many fruits and vegetables (apples, beets, cucumber, etc.) that contain these substances.
As already mentioned, regular fluid intake can also help make our skin more beautiful. Of course, vitamin-rich and healthy smoothies and squeezed juices can also contribute to fat burning. (So ​​if we run into clean water or possibly want sugary soft drinks, we can safely put together a smoothie of some fruits and vegetables at home, which not only saves us money, but doesn't even hurt our weight loss or cleansing regimen.)
To sum up, while cellulite, the tendency to gain weight, and / or the elasticity of connective tissues may even be genetically encoded in us, we can do so for our health and good condition.
Whether it's a full-time job, everyone can find out what a favorable alternative they have, whether it's sports, training, or choosing food and drinks, or a more detailed home massage, using different creams. While it is not possible to change our way of life overnight without determination and perseverance, we can only guarantee that it is well worth the energy invested in it, both externally and internally.