April 26, 2018 2:18 pm

There comes a time in every relationship when you feel the need to spice things up and bring some intimacy back. Or you just simply want to experience something new. Couples erotic massage is a perfect way to add some spice to your time together and even learn some new moves.
One or two masseuses?
When you book an appointment you can choose if you'd like one or two masseuses. Both options are great opportunities to steal some moves from your masseuse(s). You can also see, hear and feel your partner's reactions to the different massage techniques and moves.
With two masseuses you are massaged simultaneously in the same room, close enough to each other to even hold hands. You can change up the masseuses as well to experience both of their techniques. Feel free to ask questions about certain moves to learn the essence of sensual massage.
If you chose one masseuse for both of you the program becomes a bit more interactive. Your masseuse and your partner can massage you at the same time like a synchronic massage. This adds a great deal of eroticism to the program while it is really fun to learn from a professional masseuse. When it comes to lingam massage and yoni massage you can pick up the essential moves. Trying them at home afterward will be open new possibilities and a whole new erotic world.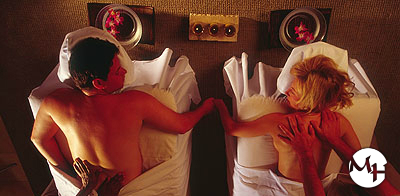 Adding more sensuality
We strongly recommend adding either the oily slippery massage or the warm Nuru massage to the program to experience an even more erotic massage. It is very exciting to learn how to massage with body parts apart from your hands, e.g. bottom, breasts, thighs, stomach. You'll both be blown away by the intimacy and you'll leave with the most memorable sensual experience!

Tags: couples erotic massage, couples massage, erotic massage, erotic massage budapest, lingam massage, Nuru massage, slippery massage, synchronic massage, yoni massage


Categorised in: Erotic massage, Erotikus Masszázs Blog

This post was written by denesys