[vc_row][vc_column][vc_column_text el_class="content"]
A Few Words About Nuru Massage
During the nuru massage, the masseuse uses a special substance, quite precisely nuru gel, to make sliding movements on the body of the massaged party on the pattern of the slippery massage. If you never tried it you shouldn't wait anymore, as it is an extraordinary experience.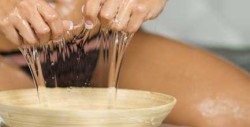 More About Nuru Massage…
Is Nuru Massage the Same as Slippery Massage?
In the technique of the massage there is no difference, however they are still very different from each other. The oil used for slippery massage and the Nuru Gel used for Nuru massage makes the huge difference in the two. Oil is a slippery product as well, however nuru gel has been exclusively made to be a very slippery substance. Like, really slippery. This is why those who tried both massage types know, that while the massage technique is the same, Nuru is a completely different experience from slippery massage.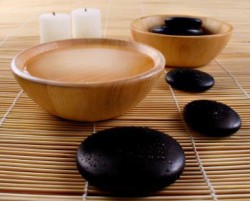 The Technique of Nuru Massage
As we said before, the technique of Nuru is basically the same as slippery massage. During both programs the masseuse uses her whole body (her arms, butt, stomach, breasts). It is also called regularly body to body massage, or b2b massage because of that.
However, this type of massage is so popular not only because of its soothing effect, buti t is an erotic massage also. Perhaps that is why we can say that one of the best ways to combat stress: erotica already has a meditative effect on men.
It is also worth to note that this is nothing more than a massage. Nuru is not to be confused with sex or sex massage as it can be seen in adult movies, it is only a special type of massage.
During a slippery massage, the masseuse (this type is usually performed by ladies) sliding up and down the whole body stimulates the points on the body of the massaged party that have a positive effect on well-being. It is a scientifically proven fact that the contact of two bodies with each other promotes endorphins, in other words, the release of happiness hormones. As endorphins enter the bloodstream, the feeling of stress also gradually eases.
It is a very popular form of relaxing massage, as it creates a special and intimate relationship between the masseuse and her client. The treatment can even be done on its own, but in many places, such as our salon, it is inserted as the last stage of a complete massage program.
Beneficial effects
The body to body massage is not only a relaxing, extremely enjoyable program, but also carries a much deeper meaning, both mentally and psychically. Its positive effects include
relieving stress,
releasing endorphins (thus relieving melancholic mood),
improving blood circulation,
refreshing the skin and improving sleep quality,
increased sexual activity and self-confidence.
Does the slippery/Nuru massage also have contraindications?
Of course, in the case of body to body massage, attention should also be paid to the contraindications, because in many cases, such a treatment is more harmful than useful. It is not recommended to have this type of massage in case of
spine problems,
arthritis,
bruising or sprains.
The Nuru Gel
Nuru gel is a substance exclusively made for massage. It is water based and consists of 98% natural ingredients. The ingredients are from Japan, and we import the gel directly from Japan to meet our high quality standards. Nuru is high quality copyrighted product, which is not matched anywhere else.
Unfortunately, many people today suffer from some form of skin disease or skin irritation. As a result, a significant portion of the oils are out of the question during a massage. There are some people who prefer not to visit massage parlors because they do not have "safe" creams/oils available to them. Nuru gel, on the other hand, is fully natural, does not contain any chemicals or preservatives, and has a neutral pH, so it does not pose a danger to any skin type.
Although a lot of people like the different aromas that characterize normal oils, it can be hard to guess who is affected by a scent, who wants to feel what's on their body. There is no such problem with nuru gel. This is because not only colorless but odorless material is guaranteed to leave no marks on the skin or fabrics.
If, of course, it is important for someone that the used material should not only be slippery, but also have a pleasant smell, then nuru gel may not be the most favorable, but in some comfort aspects it will definitely prove to be a better choice than other options.
Nuru gel can be used in many ways. In many places, including our salon, it is considered an alternative means of slippery massage.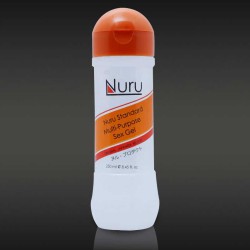 What other uses can nuru gel have and how can we get it?
Nuru gel is not only accessible through salons and spas. It is also possible to try it in our own home (for example, by ordering online), the possibilities can only be limited by our imagination.
In addition to massage, it can also be perfect as a lubricant, after all, due to its natural composition and purity, it is also safe for the vaginal epithelium. In some cases, it may even offer a solution to sexual problems (painful coexistence, vaginal dryness, inappropriate foreplay, etc.).
When used at home, this liquid mass can be diluted to our individual taste, and cold as well as hot water can be used for the desired temperature, or a microwave oven can be used.
The skin-friendly nuru gel can even replace various body lotions. Whatever the composition of the ointment, you have to wait a long time for it to dry, so it is not easy to use it in everyday life. So this water-based material can also be a great option to achieve adequate hydration, as it is absorbed extremely quickly and has no unpleasant after-effects.
The Process of Nuru Massage
The Environment
During Nuru massage, we first create the perfect environment. Our parlour has been specifically designed for that, resulting in the best experience you can get in the city. You can see some photos about our massage parlour here!
The Atmosphere
To achieve the perfect atmosphere you can get, Nuru massage always gets preceded by a full body massage or a back massage, which helps to relax. We also make use of relaxing background music, special lighting, incense and candles to give you the perfect atmosphere possible.
Preparations
To prepare for this special massage, we need a small bowl, Nuru gel, and some warm water. We pour the Nuru Gel into the bowl and mix it with some of the warm water. The end result is the perfect ingredient of nuru massage, the mixed Nuru gel.
Nuru Massage itself
Firstly, the masseuse applies the Nuru gel to her and your body. This is already a pleasant experience, being warm and slippery. After that the Nuru massage can start. The masseuse uses slippery massage techniques on your body, using her arms, breasts, stomach, butt, and thighs as well. This is why Nuru is also called body-to-body massage. It's important to note that while Nuru massage is a very sensual experience, we don't go over the boundaries of a massage, meaning that we do not offer any kind of sexual services. Our parlour takes great care for this.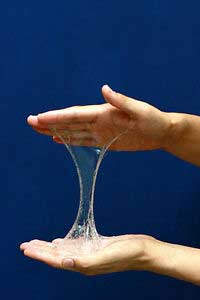 Removing the Nuru Gel
Since the gel is water based, the mix can be easily removed from the body with a quick shower, way easier than any kind of oil based products or cream. It also leaves no stains, so if you spill it on an unwanted place (sheets, clothes, etc.), you just have to wait a bit and it will evaporate on its own.[/vc_column_text][/vc_column][/vc_row]